Community Tool Shed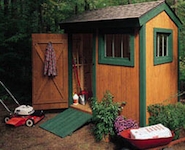 Here is the: Who, What, When Where and Why for our Community Tool Shed, brought to you by the Hurd Realty Group at Keller Williams.


Who: The Community Tool Shed (CTS) was designed for our current, past and future clients. The Hurd Realty Group has partnered with Lowe's, Cross Cut Construction, Lennar Homes and Ballantyne Commons Storage to create the CTS, just for you.

What: The Community Tool Shed is a collection of items ready for your use. Items such as Power Washers, Tile Saw, Leaf Blowers, Ladders, Carpet Cleaner, Wheel Barrow, Electric Hedge Trimmer, Saw Horses, Tree Trimmers and more, as we are always adding items…all brand new… and always FREE of charge for you to use!

When: The items housed in the CTS are available to you anytime that they are available. There are limited quantities of each (one of most items but duplicates on others) and are lent out on a first come first served basis. Please try to plan in advance so we can arrange pick up for you. We do ask that try to limit your use of the equipment to one day if possible, but we are flexible depending on demand.
Just Give Rick Hurd a call at (704) 771-5263 to reserve an item.

Where: All of our items are stored at one of our sponsors -Ballantyne Commons Storage Centre - located at 5527 Ballantyne Commons Parkway - across the street from another of our sponsors, Lowe's Home Improvement Center.

Why: The Hurd Realty Group at Keller Williams wanted a way to give back to those who helped build our business and help promote a sense of community in the neighborhoods we market and live in. We never charge for the use of any of our items and hope you have the opportunity to take advantage of the CTS.
What's next??? The Party Pod! Coming soon!

Sincerely,
Rick, Christy, Sharon and Dave
Hurd Realty Group at Keller Williams
www.hurdrealtygroup.com